AC Repair
Get your Free AC Repair Diagnostics
Please give us a few details so we can provide you a free diagnostics.
Air Conditioning Repair
Various issues could be occurring from the AC blowing out hot air, AC frozen, high electric bill, or even a backed up air conditioner line. Regardless of the type of air conditioning service required we are here layout all your options in a precise and detailed format for FREE Estimate!
Free Service Call

A free service call outlining exactly what is going out with air conditioning unit.

100% Financing

Offering incredible 0% financing options for up to 20 years.

3x Faster

We'll have your AC unit up and running 3x faster than industry standard.

100% Guarantee

All work is covered with a 100% guarantee.

Emergency AC Repair

When you're air conditioning system breaks down. We'll be there!
It's Time To Call An Air Conditioning Specialist When...
The Most Common AC Repairs
we've put together the 7 most popular AC repairs
Cleaning or Replacing Evaporator Coils
The coils hold refrigerant and are responsible for absorbing heat. When they no longer can absorb heat they freeze up causing a layer of ice may surround the AC unit.
Bad Blower Motor
Typically noticed from the a burnt electrical smell means it's time to replace. Another situation is if noticing a humming coming from the blower motor. While replacing the capacitor will do the trick in many cases we've had to return as the replace the blower motor as it burnt out anyway.
Sealing and Recharging Refrigerant Lines
The most common air conditioning repair that we typically experience about 20% of the time is a failed capacitor. If the capacitor goes bad it can either be shown from budging out with grease or inspecting it further buy opening it up. While capacitors do die over time ensuring proper AC maintenance such as clean inside filter or a clean evaporator coil can prolong the age of the capacitor.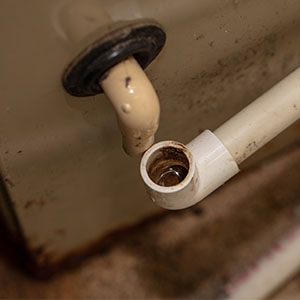 Plugged Condensate Lines
Water leaking all over the furnace is typically the sign of a clogged condensate lines. Usually the plug is found around the fitting of the drain line. Which can either be flushed with a garden hose or by calling us.
Bad Control Board
If the control board has gone bad than most likely power is not being sent to the outside unit when the thermostat is calling for cooling (the AC unit is failing to turn on). If not the control board can be sending false actions and causing malfunctions that may cause freezing over the coil.
Bad Fan Condenser Motor
A burnt out condenser fan motor is noticed when the outside AC unit is on and the fan is not spinning. You'll notice hot air coming from the top of the unit from the compressor is overheating will result in the breaker being tripped.
Frequently Asked Questions
Have questions? We got answers! Read below from many popular questions from clients.