Pavers
Paver Installation Estimate
Thinking about adding a patio to that backyard? Or adding pavers to a your driveway? Pavers are a cost-effective way to create a beautiful home's curb appeal, and a durable outdoor living space with an assortment of colors, textures, and materials to choose from. We are a local paver company servicing Ocala, Gainesville, Dunnellon, Leesburg, The Villages, Williston, Archer, High Springs, Summerfield and Newberry Florida. Get a free estimate below through our online form.
Affordable & Quality Pavers Installation
Free Estimate

We'll provide a zero cost comprehensive estimate of the job and layout all your options.

Financing

Offering incredible financing options for up to 12 years for any project.

4 x Faster

4x fast than other paver contractors.

2 Year Extended Warranty

We provide a 2 year warranty based on paver normal wear and tear on all projects.

Licensed & Insured Business

Assurance for all work performed residential and commercial business in Florida.
Pavers for Outdoor Living Space
Adding paving stones to driveways, walkways, pool decks, and patio provide immense value as an ideal source because superior water drainage, appeal (with multiple options of paver shapes, colors, and textures) and are non-slip while wet to your outdoor space. Each material thrives on different use cases for your outdoor space. Our inspiration is to create unique designs to complement your outdoor living space.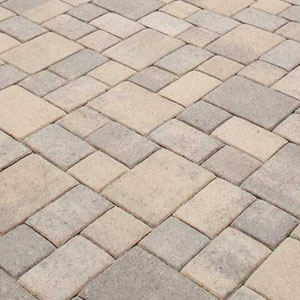 Concrete Paver
Concrete pavers are artificially made from cements, aggregates, crushed stone and a wide variety blend of colorfast pigments (gray, orange, charcoal, brown etc.). Concrete pavers come in range of sizes various and texture that provide extreme durability to interlock with one another for a great outdoor living space. The use of this stone in your front yard to backyard creates a wide range of possibilities from patios, driveways, walkways, pools, benches, retaining walls, and columns.
Learn more
Concrete Paving Stones Applications
Concrete pavers are an incredible investment to your yard, regardless of the hardscaping project you decide.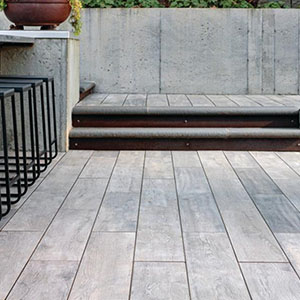 Porcelain Paver
Porcelain is a great option for a sleeker design and outdoor hardscape project to patio or pool deck. Their aesthetic appeal is very different compared to concrete, bluestone, travertine or clay pavers as it does not resemble rustic aesthetics. Porcelain is made of natural minerals and quartz in a clay-like form, which are fired at high temperatures. Porcelain pavers provide an elegant design that can range from different color blend such as white, black, brown or grey to suit your taste and preference.
Porcelain Paver Applications
Porcelain is a great for outdoor living spaces, but can also be used in commercial settings such as office parks or hotel courtyards. This paver brings beauty to any backyard living space with styles sizes ranging resembling laminate flooring, and stone oriented in various patterns to bring a tile clean finish.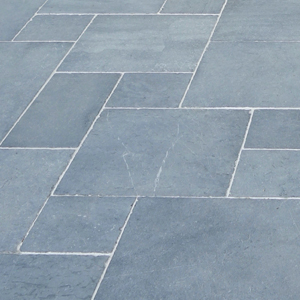 Bluestones
Bluestones come in a variety of styles for walkways, courtyards, sidewalks, patios, and pool coping. Bluestone is composed of quartz particles and sand compounds. Bluestone originates from molten lava, which then cools and compresses into blocks that are most popularly found in New England, the Northeast of the United States, and throughout Europe. The variety of silica and iron found in bluestones accounts for the variation in color. The colors include red, yellow, gray, and black. This paving stone is a softer variant than other paving stones; as a result, it should be used in areas with little walking, or pedestrian traffic.
Learn more
Bluestone Paver Applications
Bluestones aren't as suitable for full sun pool decks because their naturally ability to retain heat and are more popular for patios, or sidewalks because of it's durable material which can withstand heavy traffic areas. And do provide a more natural appearance compared to concrete pavers.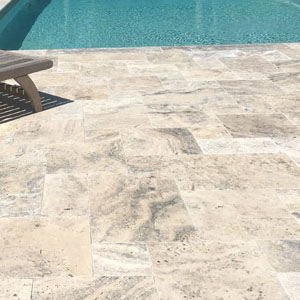 Travertine
By adding travertine to your home or garden brings a modern architecture presence. With Travertine Pavers they will not fade or weather. Travertine is a stone that can be described as a cross between marble and limestone. With a variety of colors to choose from ranging from dark brown to gray and beige, travertine is a popular stone used in the Mediterranean region during the Roman Empire. Travertine Pavers are a great addition for patios, pool decks, and lanais.
Learn more
Travertine Applications
Travertine is commonly found around pools and patios, but can be applied to driveways the width of these naturally occurring stones are sold at 3cm and this applies to pools, patios and driveways. Travertine pool coping is also applied towards pools. The available colors available for travertine may vary depending on location being bought from. The most common blend of travertine colors include cream, beige, brown, tan, grey, black, blue, orange, yellow, gold and ivory.
Clay Paver
Clay pavers are a type of natural pavers that can be found in the form of bricks or pavers, and is popular because it provides an appearance resembling brick through its red color blend with variations in texture such as smooth, rough, and rustic. The joints are filled with a mixture of sand and cement for added stability as well as keep it from moving away from where its placed.
Learn more
Clay Paver Applications
Because of the extreme temperatures at which they're formed, clay bricks create a beautiful and traditional look that comes in a variety of hues. Clay brick pavers provide a fashionable and conventional touch that may be chosen from a variety of colors. For homeowners, clay brick pavers offer a stylish and durable product to enjoy. Clay pavers may be used in a wide range of settings, including driveways and backyard patios. When it comes to clay pavers, the color palette is balanced, with significant amounts of red and brown. There is zero touch of gray or white compared to other pavers.
Paver Product Type Variations
Sizes
From one size installed on the whole job to many size pavers put in, paver pavements have gotten increasingly popular. With paver interlocking used in a variety of designs to add beauty to the conclusion hardscape project. Pavers come in a variety of hues and textures, which may be mixed together for a unique appearance that complements the house and yard.
Textures
Pavers are available in a number of textures to complement your desired landscape. The textures may provide more traction, produce a polished look, or give your pavers an antique appearance.
Colors
When it comes to choosing the color of the pavers, much depends on the style you want to achieve. A good rule of thumb is to choose a design that corresponds with your house's design. Depending on artificial (concrete pavers, porcelain pavers, clay pavers) to natural pavers (travertine pavers, bluestone pavers) there is the right suited color available to your home.
Sealant
All stones should be treated with commercial sealant to maintain the natural color and texture of the stone. Oil or acrylic-based sealer is utilized on pavers, which provides excellent rainwater and pollution resistance as well as long-term color retention. The sealant is a combination of acrylic and oil that is applied to paver using water.
Get a Free Estimate
Common Concerns to consider before adding Pavers
Have questions? We got answers! Read below from many popular questions from clients.
Our Hardscaping Locations
See many of our paver projects and details in all of our service areas below.
9. Paver Installation In Palm City FL
10. Paver Installation In Port St. Lucie FL
11. Paver Installation In Stuart FL
12. Paver Installation In The Jupiter FL
13. Paver Installation In Palm Beach Gardens
14. Paver Installation In Riviera Beach
15. Paver Installation In Hobe Sound
16. Paver Installation In The Greenacres