Hardscaping
Hardscaping & Pavers Ocala Florida
Choose from a range of our Hardscaping & Ocala Pavers Service with variety of ways to improve your outdoor living space. Get a free estimate within a couple hours.
Price Ranges for Hardscaping in Ocala, FL
Whatever your home or business dreams, when it comes to landscape, bhild has got you covered. Whether your business needs a professional facelift or your house needs work in the yard, bhild offers quality craftsmanship that oozes style, at a low cost. When image matters, choose a company you can trust for a great job and world-class on-demand service.
When you request your quote, our team of experts is ready to help. From the time you call us on the phone or visit the form below, we'll return your request quickly, with a comprehensive quote to make your Florida landscape dream, a reality.
Paver Materials and Styles
For home or business, there's a paver style for everyone. From Gainesville to Ocala, we love adding value and curb appeal to our neighbor's homes and workplaces. Whatever your personal preference, our selection of top-quality paving materials ensures you have ample choice.
Concrete Pavers
Often referred to as paving stones or concrete paving stones, they are a popular hardscape option for many uses from a retaining wall to a driveway.
Concrete Paver Applications in Marion County and Beyond
Choose from a selection pavers provide such a wide selection of applications for your dream landscape. From outdoor kitchens to patios learn more about costs, and our selection of styles & colors.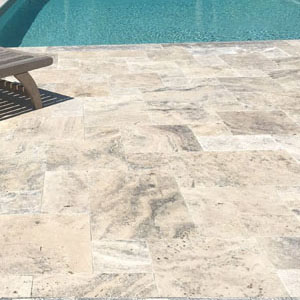 Travertine Pavers & Bricks
Perfect for pool decks and other applications, travertine stays cool underfoot unlike other types of natural or manufactured stone.
More on Travertine Pavers
Bluestone Paver Info - Great for Retaining Walls
Bluestone is a hard, solid, and weather-resistant rock. If properly built, it can support tons of weight making it long-lasting. This paver option does a great job in a number of applications.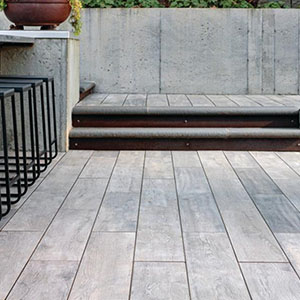 Porcelain Paver Info
Porcelain paver options bring a whole new level of sophistication to outdoor paving; they're elegant and sophisticated, and quite durable. Call us for more information.
More on Porcelain Pavers
Clay Brick Pavers & Bricks
Solid clay paving bricks are hard-fired at high temperatures to fuse the clay particles for optimal strength.
More on Clay Pavers
What to consider before adding Hardscape
Before beginning any hardscaping project ask yourself the following questions.
1. What kind of location is this?
Are you adding pavers to your home? Or is this for commercial use? Commercial use 99% of the time there will be permits involved. While for home use permits aren't required for marion county while it might be necessary that your HOA require you show documentation of work to be performed on site.
2. Is there a current structure in place of where the pavers are?
Typically most clients are choosing to replace the concrete with interlocking paver. And in most cases laying the pavers directly on top of the existing concrete is the method of action. While there are some circumstances of a driveway or a structure that requires large amounts of weight will require removal of an existing concrete slab.
3. What is the desired hardscaping scheme look your are trying to accomplish?
There are many different hardscaping applications from installing a driveway, an outdoor kitchen, patios or adding rocks to your landscape. With endless shapes, sizes, colors, and the type of material being the largest reason for cost difference (concrete, bluestone, travertine, clay).
4. Do you have an HOA? And if you do is there any regulation?
If you have an HOA about 90% of the time there is going to be some type of approval required to start any modifications to your home. This typically involves submitting detailed documentation of the exact project details. HOA typically approve a span of one to two weeks.
5. Is your surrounding areas surrounded by trees or brush?
Trees or other brush is great for shade or decoration, but they can cause a lot of discoloration over time. This could be from staining the pavers or an accumulation of dirt. The best solution for this is to add liquid sealant. This will not only help prevent discoloration, but will further prevent weeds to accumulate and grow in between the pavers.
6. What is my estimated shape and size of the area needing hardscaping?
The larger the area the price of cost decreases drastically per square footage. While the style of layout cuts, including curved lines will also play a part depending on the hardscaping installed.
Our Hardscaping Projects in Ocala Florida.
Project Name: Ocala Pavers Patio & Walkways

City: Ocala FlDate of Inquiry: December 16th 2020What Kind of Location: Home/ResidenceGrading Required: More than 1200 Sq FtVariety Selection: Traverstone (Cream/Beige/Charcoal) and Freedom Pavers (Charcoal) by Flagstone Pavers

Zip Code: 34482Date of Completion: December 01st 2020Size of Area: Paver Patio & WalkwayOld Surface Removal: NoneComments: Client requested to spice up his outdoor living space by adding appeal with concrete pavers. We proceed by adding pavers directly above the concrete with a base of washed and screened sand. All of this was completed with a border trim of a 4 x 8 charcoal border. A job well done with excelled workmanship by our hardscaping crew at bhild.

Project Pictures (Before and After)

Project Name: Ocala Paver Pressure Washing, Resanding & Sealing

City: Ocala, FloridaDate of Inquiry: August 30th 2020What Kind of Location: Home/ResidenceGrading Required: N/AVariety Selection: Paver Sand & Water Based Sealant

Zip Code: 34481Date of Completion: October 24th 2020Size of Area: More than 1000 Sq FtOld Surface Removal: Grime and sandComments: Pressure washed throughout the entire area using a surface cleaner and wand as this job required a heavy amount of attention. We further proceeded to re-sanding the pavers and lastly sealing the pavers with a water based sealant of two coats.

Project Pictures (Before and After)

Project Name: Ocala Concrete Paver Driveway

City: Ocala, FloridaDate of Inquiry: December 23rd 2020What Kind of Location: Home/ResidenceGrading Required: Medium (More than) 700 Sq FtVariety Selection: Freedom Concrete Pavers by Flagstone Pavers (White/Tan/Charcoal)

Zip Code: 34481Date of Completion: December 31st 2020Size of Area: Paver Driveway, Walkway, & EntranceOld Surface Removal: Concrete DrivewayComments: Beautifully oriented 4" x 8" concrete pavers throughout the driveway and walkway. The concrete driveway was removed with base material added throughout the driveway (road base II) and walkway (washed and screened sand). The pattern consisted of a herringbone pattern.

Project Pictures (Before and After)

Project Name: Ocala Elevated Paver Patio & Retaining Wall

City: Ocala, FloridaDate of Inquiry: August 22nd 2020What Kind of Location: Home/ResidenceGrading Required: More than 700 Sq FtVariety Selection: 6" x 6" (Beige/Tan/Charcoal), 4" x 8" Pavers(Charcoal), Stonegate (Glacier), Podocarpus Hedges 4ft, River Rocks

Zip Code: 34491Date of Completion: December 11th 2020Size of Area: More than 400 Sq FtOld Surface Removal: GrassComments: The client wanted to add a touch of elegance and sophistication when designing their outdoor space. To do this, we installed pavers that are 6" x 6", along with 4" x 8" stones in the border pattern around it! We also added hedges for privacy fueled by drip irrigation and furthermore rivers rocks too. To finish off this beautiful design we set enclose it behind our high retaining wall which keeps everything secure and private.

Project Pictures (Before and After)

Project Name: Ocala Back Yard Patio, Fire Pit & Landscaping Walls

City: Ocala, FloridaDate of Inquiry: December 02nd 2020What Kind of Location: Home/ResidenceGrading Required: Medium (More than) 700 Sq FtVariety Selection: Old Towne Pavers (Sierra), Fire Pit Bricks (Sierra), Landscaping Bricks (Sierra)

Zip Code: 34481Date of Completion: December 18th 2020Size of Area: Paver Patio Addition + Landscaping Wall + Fire PitOld Surface Removal: Grass and Tree LimbsComments: The old towne paver, color sierra, by Tremon Pavers was used throughout the patio, steps, firepit and walls per the owner request. Truly an exceptional excellent workmanship provided by the team. Client is interested in adding a sitting bench to enjoy around the firepit.

Project Pictures (Before and After)

Project Name: Ocala Pavers Extension and Retaining Wall

City: Ocala FLDate of Inquiry: December 02nd 2020What Kind of Location: Home/ResidenceGrading Required: Small (Less than) 300 Sq FtVariety Selection: Glacier Pavers + Stone Blocks(Sierra) and Glacier Cap

Zip Code: 34481Date of Completion: December 18th 2020Size of Area: Paver Patio Addition + Landscaping WallOld Surface Removal: Plants, Grass, Existing Pavers and MulchComments: Client wanted an extension of existing entrance and a border landscaping wall to surround landscaping beds. Therefore, removed all existing plants and built a perimeter around. We made sure to accent the color scheme of the house.

Project Pictures (Before and After)
Frequently Asked Questions
1. Do Pavers Crack? And their benefits?
Interlocking pavers have many pros when compared to concrete or stamped concrete. The latter commonly crack while interlocking pavers are more durable to ensure they hold up longer and have great curb appeal. While also last longer paver also provide superior water drainage that has direct relationships to how pollutants are washed in to our water system, water temperature and the amount of water quantity. Read more in our detailed article on the benefits of pavers
2. How long do Pavers Last?
When installed correctly, pavers are not only in style but highly durable and can last over 50 years.
3. Do weeds come through the pavers?
Crushed concrete with no organic matter is used to fill the space beneath the pavers. Weeds won't be able to grow in or beneath provided enough crushed concrete is applied. When weeds do emerge and certain processes are followed, seeds are distributed from above, from the pavers' tops into the cracks. The best approach is to use a liquid sealer, which acts as an adhesive glue to keep weeds out.
4. Can I add paver directly over my existing concrete?
Yes, since an existing structure is already there to provide a base and support. Situations, where existing concrete would need to be removed, include building on driveways or when a less height is desired.
5. What areas do you provide paver services?
We are proud to serve Florida. Our company professional operating area includes Marion, Alachua, Levy & Citrus County. This includes Ocala, Gainesville, Dunnellon, Bronson, The Villages, Williston, Archer, and Newberry Florida. From Gainesville to Ocala we have you covered for a free estimate.
6. What guarantee do I have on work performed?
Yes, we provide a minimum of a 2-year customer satisfaction warranty on all paver work performed. Further details for warranty are provided in our terms of service. Visit our FAQ page to request more information, call us on the phone, or send us a fax.
7. What payment methods do you accept?
bhild accepts all major credit cards (3% processing fee), cash, check other mobile payments (PayPal, Zelle, cash app), and 100% financing up to $100,000. APR range from 6.9% and upwards. No need to compare quotes, you've found the industry leader and we offer free estimates! We're only a phone call or fax away if you need more information. Monday through Saturday, we're here to help in Ocala, FL for quality work at a fair price.
8. How long will it take to be fully installed?
We are eager to help with your Florida home or business landscaping needs. In most cases, we provide you with your free estimate within 72 hours of initial contact. Your free estimate includes a blueprint, total cost, and terms of services for landscaping. After the contract and HOA (if required) are approved, our average time to completion of your landscape job is one calendar week. This can vary by job depending on available stock and your Ocala, FL landscaping needs. Learn more about how pavers are installed in our blog article "How to Install Concrete Pavers: Simple DIY Guide".
9. Are you licensed and Insured?
Yes, we take your security and peace of mind seriously. In addition to providing excellent workmanship, we bhild carries all the necessary landscaping business insurance and licenses to perform work.  This makes us an excellent company choice for your next home project in Ocala, FL. We are locally owned and operated.
Stay up to date
with the lastest information