Benefits of Pavers
By: Jane Smith
Date: Dec 22 2020
Similar Articles
In this blog, we'll explore why you should hire a landscaping service, what to look for when hiring a professional, and tips for saving money on landscaping projects.

In this blog, we'll explore why you should hire a landscaping service, what to look for when hiring a professional, and tips for saving money on landscaping projects.

Outdoor garden lighting is a great way to add a touch of beauty, elegance, and charm to your outdoor garden space.
Benefits of Pavers
Are you thinking about getting rid of an old concrete driveway? Or patio and replacing it with pavers?  Concrete can crack, can stain, can fade and the repair cost that not everyone can bare. On the other hand, paver provide a much lower level of expensive maintenance and repair. Paver unites comes in a variety of colors and installed in a variety of patterns on the lawn. The largest difficulty is some pieces may need to be cut or trimmed to complete the pattern. Pavers are unique and affordable once it is installed it looks luxurious. They are known for their durability and flexibility as further described by the U.S Department of Geological Survey.
Pavers are very easy to install and easy to remove you don't need complicated equipment to remove paver. It stays for a long time with low maintenance. It will be a smart choice to have pavers installation for your outdoor. Pavers are the best financial decision and it's a lifetime product you will get endless designs in pavers that suits you with no discolouration if proper maintenance is taken. Damage pavers can be replaceable as replacement is very easy, but the challenge here is to get the same type of shape, pattern and color.
After the installation, it looks very decent and beautiful. Living in the place where you get a lot of sunshine and copious amount of rainfall. Pavers can get weak so after the installation don't forget to cover your pavers for protection. After spending a lot of money on installing gorgeous paver. We also have to protect them from the future damage sealing paver can protect them from damages. Pavers are very strong and durable, pavers can easily handle the daily weight stress of cars, trucks and heavy traffics.
Are you looking for concrete pavers for your outdoor or your interior then you are at the right place? Concrete pavers are man made, that can be found in virtually any shape, colour, size or texture suited as per your needs. One of the best things about concrete pavers is that they will allow you to achieve the natural look that you've been dreaming for. Concrete pavers come in many different sizes with a wide selection of patterns and design. It means you can be creative with your space. Concrete pavers need to be installed carefully or else it might get damaged in future if it's not installed properly.
Concrete pavers are made of moulded concrete mixed with aggregate interlocking patterns. They need a sealer to maintain their colour and durable. There are two reasons for sealing number one is stain-resistance, the second reason is aesthetics so that you can seal the pavers and can get that wet look so sealing is for two reasons.  Concrete pavers offered in many different colour, shape, texture and can be used in any climate with easy installation, no doubt concrete pavers are a popular choice. Concrete paver requires little maintenance and can withstand harsh weather conditions.
Pavers are known as low-maintenance and offer low cost than any other paving products. Such as, Asphalt, poured concrete, and stamped concrete. Pavers can be easily maintained by regular sweeping and occasional rinsing. In the case tough stains, high pressure washing with appropriate cleaning solutions or simple spot treatment with a brush, cleaning solvent & water.
Bluestone pavers are dense and durable pavers you can use them for your walkway, deck, indoor flooring driveway, patio. Pavers have a very smooth and natural cleft finishing that is rich in look with deep blue colour, or it can be a combination of blue colour. Bluestone's smooth surface is perfect for walkways and patios, however, we recommend a light colour product for pool decking. Everyone just loves bluestone pavers for their outdoors because of their durability and hard-wearing quality. These pavers are available in new shapes and sizes.
Bluestone paver can also use for driveway run or park your vehicles. Bluestone pavers are one of the most natural stone which comes in different colours, including warmer shades of brown and lighter and blue tones. The cost of bluestone pavers depends on the thickness of the pavers and the type of paving. Thermal pavers are one of the most expensive, while irregular pavers are very less expensive. Installing bluestone pavers takes a lot of work before installation the installer must make sure that each piece is smooth and the pieces are right beside each other.
Irregular and Regular
There are two types of bluestone irregular and regular bluestone pavers. One of the basic choices that you need to make is between irregular and regular bluestone. Regular bluestone is also known as thermal bluestone its basically comes in uniform material. Manufacturers consistently check each paver to ensure that each piece is the same shape and the size. There are two types of bluestone comes one is one-inch thick and another one is 1.5- inches choices is yours. Irregular bluestone pavers are natural pieces of the stone that comes with uneven edges and unique shapes. Irregular pavers can even have different thicknesses, however, if you are not that much focused on the shape then, irregular is the best to go with.
The clay brick paver is a very traditional and classic touch to add warmth to your outdoor spaces. This paver can withstand a very high level of loading as they situated to different types of landscaping applications. It comes very strong even after the installation and comes with a large variety of colours for walkways, path and patios. When clay brick pavers are installed in a flexible paving system, their individual strength is further enhanced as an interlock. After the successful and flexible paving installation, loads can be distributed through the interaction of pavers, jointing of the sand. Interlock can be achieved while using very simple tools, inexpensive bed materials, readily available materials and normal high standard of workmanship. In this case, professional labour or mortar is not really required.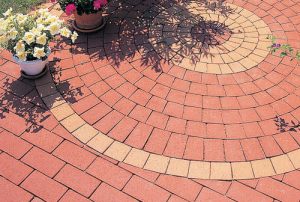 Clay pavers offer attractive designs, which are attractive to anyone for outdoor living space and can last for years if it is installed correctly. In clay bricks pavers you have plenty of opportunities to find a good style which is best for you. Clay brick pavers maintain their interlocking it is very easy to repair. If ever it gets damage or stain then you can simply lift the damaged paver with the new one. The maintenance and replacement cost is significantly lower than other paving materials and products.
They are slip-resistant and skid-resistant as they have natural textured and high abrasive characteristics in it. They are very good for heavily trafficked wet areas such as swimming pool, pathways areas. Municipal also use them for roads, footpaths, gardens etc. The installation process is very easy and simple. Once it's installed then they are all set to have traffic upon. They require low maintenance and can expect to last.
Travertine has become a popular choice for homeowners and for everyone as it doesn't require extensive maintenance and can withstand extreme temperatures. This paver is known as a natural stone such as marble, limestone etc. Travertine is formed in hot springs. Travertine is not the same as marble or limestone which falls in the metamorphic category. Paver Travertine has a hole in it which are caused by carbon dioxide. Travertine imported from turkey to USA Miami in form of containers and ships. This travertine paver can be used outdoors like pool steps, outdoor fireplaces, outside stairs, driveways, pool decks, patio areas and walkways. The very popular colour pavers have is cream, cappuccino and chocolate this all colours are common in travertine pavers. It looks awesome and easy to clean.
Not only it is good for safety and looks good but it is also well known for being durable and can withstand high heat. It doesn't matter how much high the temperature your city gets, travertine pavers are naturally made to last. It looks nice and can't be ruined easily. Travertine pavers are thick which are usually sold for outdoor paving. Travertine can also be used as decorating patio of your house or property as these look very great in gardens and grassy backyards. If you have a grassy backyard, then you should go for a light brown colour or light colours as this can make a very good contrast.
Stones
Stone paver makes high traffic areas neat and clean by their appearance. installing paving stone is very simple and easy but also easy to repair. Stones will keep you safe from losing your balance or getting your shoes soggy from the mud or something like that. It has a slip-resistant feature. A natural stone paver is one of the heavy-duty materials available. Stone paver requires a professional installation and consistent care and maintenance in order to look great.
Stone pavers can never crack, flake or chip. They are able to withstand hot and cold climates and still, they can manage their natural beauty. Repair is also very simple and easy to go. You don't need to change the entire area just pick up that damage stone and lift with the new one. Anyone can easily maintain the stone paver as it is easy to maintain.
Bricks
If you want a more traditional look, then the brick is the best option that gives a timeless rustic look at any homes. It comes with a variety of finishes with very classic patterns. The colours and the size of bricks paver come in a limited option. It's not only strong but they also stand up with elements well. Brick pavers come in a variety of shapes, sizes colours and finishing, it might look old or new as they are smaller than other pavers they take only while to put in place Simple brick patterns make excellent, cheap paver ideas. Brick is also very good for driveways as it will last for generation to come. It is a one-time investment and will run long.
Patio
A patio made with many materials, but it's hard to beat pavers for very easy installation with low maintenance. The initial cost might be higher than other options, but you will definitely save for the long run by not having a stain or seal it continuously, repairs are also very easy. There is a number of options to consider with regard to paver laying patterns. When designing new paver patio, your choice will vary depending upon the style and shape of pavers you choose. You can mix design, colours, patterns and shapes to be unique and interesting at the same time. Patio paver responds very well in changing weather and temperatures. This is very stronger than a slab of concrete.
Driveways
To construct a paver driveway you need to first tear-out and remove all the existing concrete to get heavy traffic. Paver driveways do not crack and enhance the look of the house and the property, bringing the value of it. You require maintenance every year with the pressure wash every 4 to 5 years and then you can seal when all done. After the proper installation durability will last. Beautifully designed your driveway pavers can easily enhance the look of your landscape.
Adding in block paving to your yard driveway or patio area, one of the best and refined methods that you can use to make your property the best place ever. The paving block is one of the most durable and cost-effective options for your driveway and patio. It will be great to have a perfect block paving design for your outdoor that best you. Block paving is suitable for homes, commercial properties and also in public sectors. There are many different types of patterns of blocks to choose from, different patterns will suit different properties. While any cement product will change the colour over time or impacted by outside forces, pavers absorbent is less than other applications. Pavers rated for less 5%absorption. Which will be very lower than asphalt and poured concrete.
Pools
Pools pavers can enhance the look of your property or your swimming pool area. Concrete is a tempting choice for a pool area. There are a lot of pavers comes in different sizes and shapes this all is especially for outdoor swimming pools. A lot of shapes, colours, patterns of pool pavers are available with various needs and aesthetic preference. However, there is one more thing to keep in mind is to choose paver which is slip-resistant. The most common materials used to make pools is stone, bricks, concrete etc. The colours of pools pavers that can suit best for your pools is medium shades like rust, camel, apricot, copper etc.
If you combine these colours then it can create dynamic effects. Colours combination can be blend with the surroundings like backyards, gardens, etc. It is important to seal concrete if you using pool pavers made of concrete, as concrete can fade due to the high amount of water and sun heat. The concrete pool makes an ideal pool material because they easily combine the affordability of concrete with the elegance of natural stone. One of the most and significant advantages of using concrete is the abundance of shapes and sizes available. You can place concrete pavers in a variety of patterns to add amazing and visual interest to your pool area.  It is important to seal concrete if you using pool pavers made of concrete, as concrete can fade due to the high amount of water and sun heat.
Fire pits
After deciding where to build a paver patio with fire pit and what size of fire pit you want, quantify the material you required. The length of the paver fire pit multiplied with the width then you can easily get the idea of square foot in which you want to build the fire pit with how much of area. You have to place fire pits in the patio and held in place with rapid set mortar mix to complete a circle.
Walls
One of the great use for paving stones is to build a paver retaining wall. We can use it in both commercial area and residential area. There are many materials we can use in retaining walls Pavers retaining walls are becoming a very popular option due to the variety of design options and very easy to install. Retaining wall pavers you will get lots of designs, shapes and sizes.
Whether it is retaining wall, driveway, walkway or patio pavers can certainly be the correct option for you. With pavers there are plenty of designs, colours to ensure that your project will flow with the rest of your home as pavers require far less maintenance than other hard materials. Their strength and durability eliminate costly patching or resurfacing while it provides a long-lasting, dependable surface that both are aesthetically pleasing and lasts for many years. The nature of pavers is very easy to replace and easy to repair. You will not require the seal to help the project cost.
Would you like a free estimate?
give us a few details to get started
Stay up to date
with the lastest information