Beginner's Guide to Small Space Gardening
Beginner's Guide to Small Space Gardening
By: Cheli Scott
Date: Jan 18 2023
Similar Articles
In this blog, we'll explore why you should hire a landscaping service, what to look for when hiring a professional, and tips for saving money on landscaping projects.

In this blog, we'll explore why you should hire a landscaping service, what to look for when hiring a professional, and tips for saving money on landscaping projects.

Outdoor garden lighting is a great way to add a touch of beauty, elegance, and charm to your outdoor garden space.
Beginner's guide to small space gardening
Small space gardening is a fun way to have a beautiful green oasis even in a postage stamp backyard, patio, or balcony. You can grow an herb, flower, or vegetable garden in a space as small as a window box. We've put together a beginner's guide to getting started with small space gardening.
Can I garden in my small space?
Of course you can! Small space gardening doesn't have to be an expensive or maintenance heavy endeavor. You can add some greenery to your small spaces with as little as a hanging basket.
If you are unsure, start out small with container gardening and work your way up. You can grow flowers or try growing herbs if you want to experiment with something simple.
You can even grow vegetable gardens in spall spaces. Many beautiful and edible plants can be grown in containers, such as salad greens, herbs, tomatoes, and fruit. There are also dwarf varieties of your favorites available to be raised in pots. Fruit trees even have compact varieties that you can grow in pots or in a small backyard.
Creating a great foundation
The first step to a beautiful outdoor space is the bare bones hardscape. In small space gardening this may look like a pre-existing postage stamp backyard, patio, or rooftop.
Rooftop and balcony gardening
Beautiful gardens can be built on balconies and rooftops. With a variety of containers, furniture, and maybe even a water feature, you can create a lovely space.
Lighting and heat
When choosing plants for these spaces consider the amount of sun they get. North facing balconies and rooftops get full sun exposure and are very hot. Rooftops in New York city can get as hot as 170°F.
Choose plants, furniture, and ground cover that can stand up to the heat. Succulents and sun loving tropical plants are good options for these spaces. If they don't get too hot, vegetables tend to like 6 to 8 hours of sun exposure, making a sunny balcony a good place to grow potted edible plants.
On the other hand, if your rooftop is shaded by other buildings or trees, you may need to consider plants that can tolerate shade conditions like hosta and begonia.
Wind
Plants are also susceptible to wind exposure. If you find your plants are being knocked over by too much wind, consider building a lattice to block it. Lattices also give you some vertical growing space and privacy.
Weight
Be sure to take weight into consideration when choosing plants, soil, and containers. Your rooftop or balcony should be able to support the weight of your garden while it is wet after watering. Choose lightweight pots and growing medium. Avoid concrete and terra cotta because they are heavy.
Sound pollution
If your balcony overlooks a busy street, consider adding a water feature to block out sound.
Building a patio
If you don't already have one, you can build a patio yourself or have a landscaper build one for you out of pavers, gravel, stones, or other materials. Pavers are a great option for a budget friendly, professional look. They are durable, inexpensive, and come in a variety of colors and shapes.
Building a your own involves digging, hauling dirt and gravel, and placing bricks, which is a lot of work! If you plan to try and build one yourself, expect it to take three or four weekends to complete. However, it is a rewarding DIY project that you can include your family in.
According to Forbes, you can expect to pay between $1,000 and $5,000 if you are having it professionally installed. To install a simple ground patio yourself will cost closer to $800.
Container gardening in small spaces
Gardening in containers can be an extremely enjoyable experience and add beauty and character to an apartment or rental. Check with your landlord to make sure you are allowed to place container plants on your balcony as some property management companies do not allow it.
Choosing the right plants
Before you get overwhelmed with plants at the nursery, do some research and plan some plants you might want to buy. Consider how much space you have and how frequently you plan on doing maintenance on them.
Choose healthy plants with firm, off-white roots. Black, soft roots show signs of disease and decay. When companion planting in pots, leave room between plants to give them room to grow to a mature size.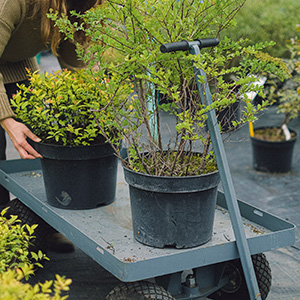 Lighting conditions
As we mentioned previously, to grow most vegetable crops, you will need a sunny area that gets 6 to 8 hours of light per day. Leafy greens can get away with fewer hours of sun. Many beautiful plants tolerate shady conditions, so don't get discouraged if your space doesn't face the right direction. Ask the gardening expert at your nursery about plants light needs before you buy if you are unsure.
Soil
Choosing the right soil for potted plants is very important. Purchase a high quality commercial potting soil or mix your own from peat moss, compost, perlite, and vermiculite. Don't use soil from your garden beds because it will likely become compacted. Good potting soil is essential for drainage as well as water retention.
Watering and Irrigation
Before you buy and place your plants, consider how you plan on watering them. Will you be carrying a watering can to them every day or can you use a garden hose? If you don't want to water frequently, consider choosing plants like succulents with low water needs.
It's best to water in the morning or evening time so excess water isn't lost through evaporation. Watering in the morning also deters slugs. Water before plants begin to wilt and when soil has become dry to the touch.
Encourage Drainage
Many things can be used as a container, but you will need to drill or poke drainage holes in the bottom of whatever you use. Choose good quality soil to ensure good drainage.
Despite common belief, rocks or broken pot pieces as the bottom of your pots do not promote drainage. Your entire pot should be filled with potting soil to encourage root growth.
Put saucers or bricks underneath plants instead of placing them on the ground to make sure they drain properly.
Fertilization
Container plants will need to be fertilized every three to four weeks with a liquid fertilizer. Your vegetable garden will need to be fertilized more often than other plants.
Choose an organic fertilizer as synthetic fertilizers kill essential organisms in your soil that feed your plant. If you decide to go with synthetic fertilizer, be prepared to continue using that to maintain your plant.
Choosing containers
Containers for your garden can be made from a number of beautiful and sometimes unusual materials. You don't have to use pots at all. Fabric planter bags make a lightweight alternative to traditional pots.
Interesting containers like feed troughs and other antique store finds make an impactful centerpiece garden. Check to make sure they aren't painted with lead paint before you use them.
Choose a container larger than what you think you will need. Small containers dry out faster and need to be watered more often.
If your balcony gets lots of sun or it is very hot where you live, use light colored containers. Large plants or trees in containers should be put on wheels so they can be moved easily.
Window boxes, hanging baskets, and vertical gardening
Another key point is that if you don't have a lot of floor space, you can make beautiful gardens in hanging baskets and in other types of vertical gardens.
Trailing plants are especially beautiful in hanging gardens, but you can also grow edible plants and flowers as well. Strawberries, eggplants, peppers and tomatoes grow well in baskets.
There are many different vertical gardening structures you can build and buy, ranging from trough designs to DIY designs made from recycled materials like plastic bottles.
Growing a small garden plot
If you have a small backyard, you can plant flower beds, raised beds, and you can even plant on your fences and trellises to save space. Growing plants in small spaces requires you to be more selective with your plant choice, but can be just as enjoyable as growing in a large backyard.
Meanwhile, there are many compact varieties of popular plants that will take up less space in small garden beds. If you are planting food crops, choose productive plants that take up a small footprint like herbs and leafy greens. Tomatoes, pole beans, and peppers are also heavy producers that give you the most harvest per square foot.
Succession planting is planting crops at intervals so that you can continuously harvest. Using this technique will help you get the most produce out of your small garden.
Raised beds
You can save space and make life a little easier on your back by using raised beds. Using raised beds and planters helps you create small, organized gardens where you can single species or companion plant.
Fences and trellises
Finally, If you don't have much horizontal space, consider growing plants that grow vertically. Many beautiful plants can be grown on a fence or up a trellis. This is a pretty way to create a privacy screen. Even edibles can be grown on trellises. Grapes make beautiful, established trellis plants.
Ask for help!
If you need help putting in pavers for a patio or other landscaping tasks for small space gardening consider working with a professional like the ones at bhild.com. Call us today, or fill out our form here for a free estimate on lawn services!
Would you like a free estimate?
give us a few details to get started
Stay up to date
with the lastest information