Hardscaping
Hardscaping & Pavers in Belleview, Fl
choose from a variety of paver and hardscaping services to compliment your home. We have a huge selection of colors, textures, and materials to bring your outdoor living space to life.
Price Ranges for Hardscaping in Belleview, Fl
Paver Materials and Styles
Variety of Paver applications, texture, materials and colors
Concrete Pavers & Bricks
Deciding to install interlocking concrete pavers, or landscaping bricks is a great option for increasing your outdoor living space compared to the conventional concrete slab. Concrete pavers provide texture, color schemes, non-slip, and durability. The possibilities being endless from a concrete paver driveway, retaining wall, or a fireplace.
Concrete Paver Applications
Choose from a selection pavers provide such a wide selection of applications. Learn more about costs, and our selection of styles & colors.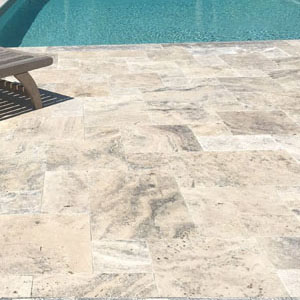 Travertine Pavers & Bricks
Travertine is a natural stone similar to marble or limestone, but unlike marble or limestone travertine is formed naturally in hot springs. Travertine provides an elegant look and extreme durability to withstand many different applications including car traffic or travertine driveways.
Bluestone Pavers & Bricks
Bluestone pavers are dense and durable pavers which provide great support for walkways, decks, indoor flooring driveways, and patios. Bluestone pavers have a cleft finishing that is rich in look with deep blue color. Further bluestone pavers provide a smooth surface perfect for walkways and patios.
Clay Brick Pavers & Bricks
Clay bricks provide a traditional and classical warm feeling to your outdoor living space. Clay brick pavers apply to many different landscaping applications and can bear large amount of weight. Further they are slip resistant and skid resistant as they have natural texture and high abrasive characteristics.
What to consider before adding Hardscaping
Before beginning any hardscaping project ask yourself the following questions.
1. What kind of location is this?
Are you adding pavers to your home? Or is this for commercial use? Commercial use 99% of the time there will be permits involved. While for home use permits aren't required for marion county while it might be necessary that your HOA require you show documentation of work to be performed.
2. Is there a current structure in place of where the pavers are?
Typically most clients are choosing to replace the concrete with interlocking paver. And in most cases laying the pavers directly on top of the existing concrete is the method of action. While there are some circumstances of a driveway or a structure that requires large amounts of weight will require removal of an existing concrete slab.
3. What is the desired hardscaping scheme look your are trying to accomplish?
There are many different hardscaping applications from installing a driveway, an outdoor kitchen, or adding rocks to your landscape. With endless shapes, sizes, colors, and the type of material being the largest reason for cost difference (concrete, bluestone, travertine, clay).
4. Do you have an HOA? And if you do is there any regulation?
If you have an HOA about 90% of the time there is going to be some type of approval required to start any modifications to your home. This typically involves submitting detailed documentation of the exact project details. HOA typically approve a span of one to two weeks.
5. Is your surrounding areas surrounded by trees or brush?
Trees or other brush is great for shade or decoration, but they can cause a lot of discoloration over time. This could be from staining the pavers or an accumulation of dirt. The best solution for this is to add liquid sealant. This will not only help prevent discoloration, but will further prevent weeds to accumulate and grow in between the pavers.
6. What is my estimated shape and size of the area needing hardscaping?
The larger the area the price of cost decreases drastically per square footage.  While the style of layout cuts, including curved lines will also play a part depending on the hardscaping installed.
Our Hardscaping Projects in Dunnellon Florida.
Frequently Asked Questions
1. Do Pavers Crack?
Interlocking pavers provide a great upside compared to concrete or stamped concrete which commonly crack.
2. How long do Pavers Last?
Pavers offer an expected durability of more than 50 years when installed correctly.
3. Do weeds come through the pavers?
The material added beneath pavers is crushed concrete with zero form of organic matter. Thus weeds can't grow in or beneath considering enough crushed concrete is added. When weeds do form and proper procedures are taken it's from above in which seeds are spread from on top of the pavers in to the cracks. The most appropriate solution is to add liquid sealant which acts as an adhesive glue protecting the pavers.
4. Can I add paver directly over my existing concrete?
Yes, since an existing structure is already in place is provide a form of support. Instances of where concrete would need to be remove is on driveways or when limited amount of height is needed.
5. What areas do you provide paver services?
We operate and provide paver services throughout Marion, Alachua & Levy Counties. This includes Ocala, Gainesville, Dunnellon, Bronson, The Villages, Williston, Archer, and Newberry Florida.
6. What guarantee do I have on work performed?
Yes, we provide a minimum of a 5 year craftsmanship warranty on all paver service. Further details for warranty are provided in our terms of service.
7. What payment methods do you accept?
bhild accepts all major credit cards (3% processing fee), cash, check, other mobile payments (paypal, zelle, cash app), and 100% financing up to $100,000. APR range from 6.9% and upwards.
8. Can I pre-qualify for financing?
Yes, visit the following link for approval.
9. Are you licensed and insured?
Yes, all paver services performed are fully insured, including all necessary licenses to perform work.
10. How long will it take to be fully installed?
In most cases we provide within one day of initial contact a detailed quote, this includes a blueprint, costs, and terms of work. After contract and HOA (if applicable) is approved our average completion time is within one week of initial contact.
Stay up to date
with the lastest information