Hardscaping
Hardscaping & Pavers The Villages FL
Choose from a variety of hardscaping and pavers in The Villages to compliment home. As a local company, in The Villages Florida, we provide huge selection of colors, textures, and materials to bring your outdoor living space to life.
Pricing to Install Hardscaping and Pavers In The Villages, Fl
From Orlando to Lady Lake and Fruitland Park, if you need an amazing job on your hardscaping project, bhild is ready to help. We understand the allure of outdoor living spaces. Whether your Florida home project is a pool deck, driveway pavers, patio pavers, or a back yard facelift, no need to compare quotes. bhild offers quality work at a reasonable price with paver installers on hand to take care of your Florida project now. Our concrete contractors are second to none. Fill out the form below for your professional and totally free estimate, and see why bhild is The Villages homeowners choice for hardscape services on demand.
Paver Materials, Brick Pavers, & Styles
Whether you need repair, installation, or landscape construction for your Florida home or business, our wide selection of pavers styles means we have something for everyone and every location and project.
Concrete Pavers
Economical in cost and low maintenance, concrete pavers make life easy in Florida. More aesthetically appealing than asphalt and more durable. A cost effective landscape choice for your business or house in The Villages, Florida.
Concrete Paver Applications
Choose from a selection pavers provide such a wide selection of applications. Learn more about costs, and our selection of styles & colors.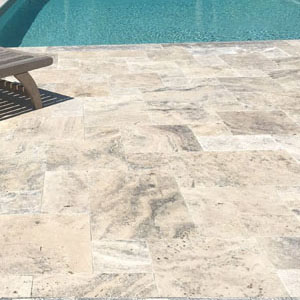 Travertine Pavers & Bricks
This type of paver brick is perfect for your pool deck or paths. Unlike other stone and brick, travertine stays cool under bare feet - a must-have in the Florida heat. Easy maintenance is an added bonus for your business or home.
Bluestone Pavers & Bricks
Bluestone is a hard, solid, and weather-resistant stone. If properly built, this paver brick can support tons of weight making it long-lasting and a great choice when you install pavers at your Lady Lake or Florida project.
Porcelain Pavers
Porcelain options bring a whole new level of sophistication to new pavers; they're elegant and sophisticated, and quite durable, making them a popular choice in Lady Lake and The Villages, FL.
Clay Brick Pavers & Bricks
Consider clay for your new pavers. Clay paving bricks are hard-fired at high temperatures to fuse the clay particles for optimal strength, making them great for any project. Whatever your needs, clay pavers are a solid choice.
What to consider before adding Hardscapes & Softscapes
Before beginning any project ask yourself the following questions.
1. What kind of location is this?
Is this new landscape project being added to your home? Or is this for commercial use? Commercial use 99% of the time there will be permits involved. While for home use permits aren't required for sumter county and throughout the villages and leesburg while it might be necessary that your HOA require you show documentation of work to be performed.
2. Is there a current structure in place of the for this project are?
Typically most clients are choosing to replace the concrete with interlocking paver. And in most cases laying the pavers directly on top of the existing concrete is the method of action. While there are some circumstances of a driveway or a structure that requires large amounts of weight will require removal of an existing concrete slab.
3. What is the desired hardscaping scheme look your are trying to accomplish?
There are many different hardscaping applications from installing a driveway, an outdoor kitchen, or adding rocks to your landscape. With endless shapes, sizes, colors, and the type of material being the largest reason for cost difference (concrete, bluestone, travertine, clay).
4. Do you have an HOA? And if you do is there any regulation?
If you have an HOA about 90% of the time there is going to be some type of approval required to start any modifications to your home. This typically involves submitting detailed documentation of the exact project details. HOA typically approve a span of one to two weeks.
5. Is your surrounding areas surrounded by trees or brush?
Trees or other brush is great for shade or decoration, but they can cause a lot of discoloration over time. This could be from staining the pavers or an accumulation of dirt. The best solution for this is to add liquid sealant. This will not only help prevent discoloration, but will further prevent weeds to accumulate and grow in between the pavers.
6. What is my estimated shape and size of the area needing hardscaping?
The larger the area the price of cost decreases drastically per square footage.  While the style of layout cuts, including curved lines will also play a part depending on the hardscaping installed.
Our Hardscape Projects in The Villages Florida.
Frequently Asked Questions
1. Do Pavers Crack?
Interlocking pavers provide a great upside compared to concrete or stamped concrete which commonly crack.
2. How long do Pavers Last?
Pavers offer an expected durability of more than 50 years when installed correctly.
3. Do weeds come through the pavers?
The material added beneath pavers is crushed concrete with zero form of organic matter. Thus weeds can't grow in or beneath considering enough crushed concrete is added. When weeds do form and proper procedures are taken it's from above in which seeds are spread from on top of the pavers in to the cracks. The most appropriate solution is to add liquid sealant which acts as an adhesive glue protecting the pavers.
4. Can I add paver directly over my existing concrete?
Yes, since an existing structure is already in place is provide a form of support. Instances of where concrete would need to be remove is on driveways or when limited amount of height is needed.
5. What areas do you provide paver services?
We operate and provide paver services throughout Marion, Alachua, Sumter & Levy Counties. This includes Ocala, Gainesville, Dunnellon, Bronson, The Villages, Williston, Archer, and Newberry Florida.
6. What guarantee do I have on work performed?
Yes, we provide a minimum of a 5 year craftsmanship warranty on all paver service. Further details for warranty are provided in our terms of service.
7. What payment methods do you accept?
bhild accepts all major credit cards (3% processing fee), cash, check, other mobile payments (paypal, zelle, cash app), and 100% financing up to $100,000. APR range from 6.9% and upwards.
8. Can I pre-qualify for financing?
Yes, visit the following link for approval.
9. Are you licensed and insured?
Yes, all paver services performed are fully insured, including all necessary licenses to perform work.
10. How long will it take to be fully installed?
In most cases we provide within one day of initial contact a detailed quote, this includes a blueprint, costs, and terms of work. After contract and HOA (if applicable) is approved our average completion time is within one week of initial contact.
Stay up to date
with the lastest information